New Kids Book Series Reveals True Stories of 9/11 Heroism and Helps Kids Expose Heroes in Their Lives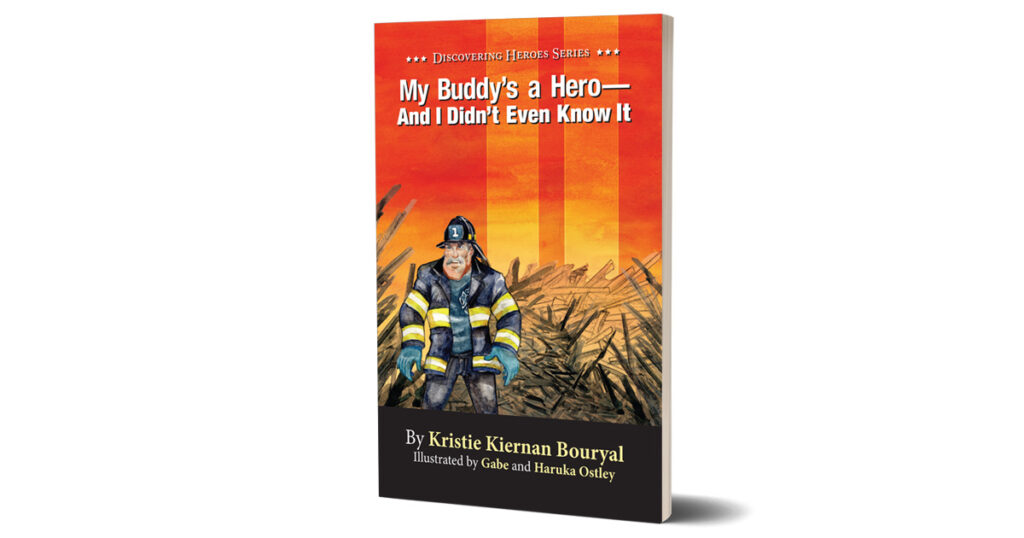 – 'My Buddy's a Hero – And I Didn't Even Know It' is the Inaugural Edition in the Discovering Heroes® Series of Books by Context Productions
– Grandfather, Former Lieutenant in the FDNY's Elite Rescue Units Shares 9/11 Experience with Grandkids in First Book of the Series
NEW YORK, September 3, 2018 – Seventeen years after the worst terrorist attacks on American soil, Context Productions, a creator and publisher of children's content, is releasing the first book in its Discovering Heroes® series of early chapter books for young readers. "My Buddy's a Hero – And I Didn't Even Know It" shares a first-person account of 9/11 heroism and helps kids expose everyday heroes in their own lives.
"This is as unique as children's books get. An authentic 9/11 story that takes readers right back to that day, with a smart approach that teaches kids how to uncover stories of heroism around them. America's darkest day has been skillfully turned into a positive learning for kids," said New York City Educator Kaitlin Carbonaro. "It tugs on heart strings while managing to spark intellectual curiosity and shine a light on everyday heroes," said New York City Educator Victoria Heidel. "It's a clever, authentic work of art," Heidel continued.
In "My Buddy's a Hero – And I Didn't Even Know It," the main characters, Tyler, Olivia and Sophia, discover that their Grandfather helped rescue the last man out alive from the ruins of the World Trade Center tragedy. It's the first time the three ever heard that Grandpa, a more than twenty-year veteran and former lieutenant in the Fire Department of the City of New York's (FDNY) elite Rescue units, lost many people he loved that day and was part of the rescue and recovery efforts. Grandpa's story unfolded because Tyler, Olivia and Sophia asked questions, were active listeners and sought deeper meaning. In this inaugural edition, kids learn what it was really like on America's darkest day and open their minds to a world full of stories of everyday heroism just waiting to be told.
"Today's kids were born later and know little about 9/11. Yet it's a day that has profoundly affected countless lives and we continue to lose more and more people to 9/11-related illnesses," said author Kristie Kiernan Bouryal. "Through this authentic story and others to come in the series, kids will become informed about 9/11 from different perspectives. They will learn about the courage and extraordinary efforts of everyday people in the face of our worst tragedy. They will learn that it takes active listening, asking questions and seeking context to uncover amazing, untold stories that surround them," she continued.
In later books in this Discovering Heroes® series, Tyler, Olivia and Sophia will learn about some of Grandpa's brave friends who lost their lives on September 11, 2001, about their Grandmother's role as mission command during the country's greatest disaster and of the many victims still losing their lives to September 11 due to health-related issues and more.
The approach Tyler, Olivia and Sophia take, is an approach any child can take to learn more about the heroes closest to them. "I hope your child, family members and students join the main characters on their journeys, become more cognizant of 9/11 and uncover the untold stories of heroes in their lives," said the author.
"My Buddy Is a Hero – And I Didn't Even Know It" is fitting for kids of all ages, especially seven through eleven. The books are available online on Amazon.com, FDNYshop.com, in the FDNY Fire Zone in New York City and more stores. Teaching tools are available on the Context Productions website. The second book in the Discovering Heroes series, Remembering Heroes, is due out in early 2019.
ABOUT CONTEXT PRODUCTIONS
Context Productions creates, publishes and distributes multimedia content for kids. Our Discovering Heroes® series of non-fiction, chapter books for young readers reveal first-person accounts of heroism tied to September 11, 2001 and help kids to uncover stories of everyday heroes in their own lives. For more information visit contextproductions.com and connect with us on Facebook, LinkedIn, Instagram and Twitter.